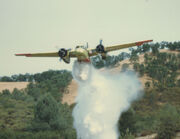 The S-2 Tracker was an anti-submarine aircraft used by the U.S. Navy and other nations including Canada.
In the late 1960s the U.S, Navy began to replace the S-2A with improved versions. S-2A's became available through military surplus and was adopted as an air tanker used in fighting wildland fires.
The S-2A was operated by Cal Fire until it was replaced by the upgraded S-2T air tanker. The first S-2A entered service as an air tanker in 1973, the last used by Cal-Fire was phased out of service in 2005.
In 1978 Conair Aviation Ltd of Canada began a similar conversion of surplus S-2A aircraft using the name Firecat for the air tankers. The first aircraft were used by Canadian firefighting organizations as well as Conair who provides contract aerial firefighting services. In 1982 the French Securite Civile also began operating a fleet of Conair Firecats.
Manufacturer: Grumman Aerospace
Crew: 1 pilot
Payload: 800 gallons (3,028 ) fire retardant
Gross Weight: 27,000 pounds (12,200 kg)
Max. Operating Speed: 295 mph (313 kph)
Range: Loaded: 800 miles/Empty: 1,000 miles (1,280 km/1,600 km)
Wing Span: 70 feet (21.3 m)
Endurance: 4.5 hours
Engines: Two Wright R-1820-82, 9 cylinder radials (1,500 horsepower each)