Fire Stations
Edit
| Station | Address | In Service | Notes |
| --- | --- | --- | --- |
| Fire Station | 27 Peter Street North | 1895-1960 | Currently used as a lawyer's office. |
| Fire Station 1 | 68 West Street South | 1960-2014 | Became Station 1 when Station 2 opened in 2007. Property sold to Simcoe County for an EMS station, old fire station demolished in 2016. |
| Fire Station 2 | 1 Commerce Road | 2007-present | |
| Fire Station 1 | 500 Gill Street | 2014-present | |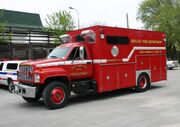 Apparatus Roster
Edit
All pump/tank measurements are in Imperial gallons.
Fire Station 1 - 500 Gill Street
Edit
Built 2014
Fire Station 2 - 1 Commerce Road
Edit
Built 2007
Tower 1 - 2011 Spartan Gladiator Classic MFD / Smeal (1500/260/30F/100' mid-mount) (SN#117001 / SO#3928)
Pump 2 - 2004 Spartan Advantage MFD / Rosenbauer / Central States (1050/650/35F) (SN#1303804)
Retired Apparatus
Edit
External Links
Edit
Station Map
Edit
Ad blocker interference detected!
Wikia is a free-to-use site that makes money from advertising. We have a modified experience for viewers using ad blockers

Wikia is not accessible if you've made further modifications. Remove the custom ad blocker rule(s) and the page will load as expected.