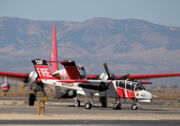 The OV-10A is an airtactical aircraft used by Cal Fire and formerly used by the Bureau of Land Management (BLM).
The OV-10A is a former United States military close air-support aircraft. As the wide field of vision made it an excellent aerial observation platform, Cal Fire purchased 15 from the Department of Defense in 1993. When the BLM discontinued use of the OV-10A, Cal Fire obtained 6 more from them. Cal Fire uses the OV-10A as both a lead aircraft for airtankers and as an aerial platform to coordinate all air operations at an incident.
Manufacturer: North American-Rockwell
Crew: 2 - pilot and observer
Gross Weight: 10,500 pounds (4,762 kg)
Max. Operating Speed: 247 mph (397 kph)
Range: 1,000 miles (1,600 km)
Endurance: 5.5 hours (maximum)
Wing Span: 40 feet (12.2 m)
Engines: Two Garrett T-76 turbines (715 horsepower each)
Ad blocker interference detected!
Wikia is a free-to-use site that makes money from advertising. We have a modified experience for viewers using ad blockers

Wikia is not accessible if you've made further modifications. Remove the custom ad blocker rule(s) and the page will load as expected.