The Mimico Fire Department was a volunteer department in the Township of Etobicoke. The department, organized in 1918, operated from a single-bay fire station at 13 Superior Avenue until disbandment in 1967.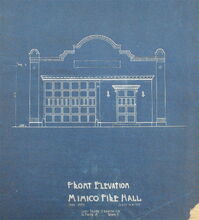 The department was established in 1918. Mayor Harrison and two councillors were authorized to purchase a one-ton Chevrolet truck chassis with fire pump and equipment for $2,725.
[1]
A combination fire hall and police station was built in 1929, some 11 years later, according to plans from James, Proctor & Redfern Limited of Toronto. The hall was constructed by local resident Andrew Crowe for a total cost of $7,500 and officially opened in late September/early October 1929.
A second storey was added to the structure sometime prior to 1955.
In 1967 the Town of Mimico merged with neighbouring municipalities to form the Borough of Etobicoke. With full-time, paid firefighters of the Etobicoke Fire Department protecting Mimico from nearby Station 1 (now Toronto Fire Station 433) and Station 9 (now Toronto Fire Station 435), the need for a volunteer department in Mimico no longer existed and the agency was disbanded. The department's apparatus were transferred to the Etobicoke Fire Department.
Following disbandment, the fire station later housed a municipal ambulance station.
In September 2006 the former fire station was added to the City of Toronto's Inventory of Heritage Properties for its cultural heritage value.
The structure was demolished in 2012 to make way for a condominium development at 11 Superior Avenue.
Fire Stations
Edit
| Station | Address | In Service | Notes |
| --- | --- | --- | --- |
| Fire Station | 13 Superior Avenue | 1929-1967 (amalgamation) | Demolished 2012. |
Apparatus
Edit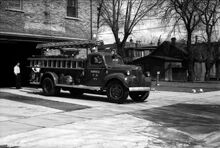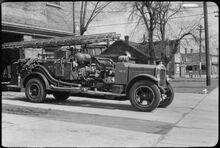 All pump/tank measurements are in Imperial gallons.
1958 LaFrance C-810-PJC pumper (840/300?) (SN#L-5583)
1946 Fargo FL-6 / LaFrance (SN#B-1791)
1937 Bickle-Seagrave 60' mid-mount aerial (ex-Forest Hill Fire Department (Ontario)) (Now owned by the Rameses Shriners of Etobicoke, ON)
1926 Gotfredson pumper (spare/reserve)
References
Edit
↑ Currell, Harvey Overton. The Mimico Story. Edited by Hugh M. Griggs, Mimico, Ont., Town of Mimico and Library Board, 1967. Retrieved electronically at http://static.torontopubliclibrary.ca/da/pdfs/184636.pdf