Maxi Métal
Image

Agency overview

Founded
1983
Closed
Unknown
Headquarters
Saint-Georges, Qc
Factories
Saint-Georges, Qc
Key people
Claude Gendron
Danny Dufour
Products
Pumper
Tanker
Rescue
Aerial
Revenue
30M$
Employees
50
Parent
Website
http://www.maximetal.ca/en/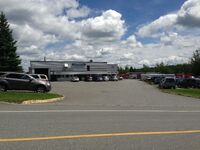 Maxi Métal Inc. is a Canadian fire apparatus manufacturer located in Saint-Georges, Québec, a small town located approximately an hour from Québec City. They have built over 500 trucks.
Maxi Métal (1983) Inc.
Edit
Maxi Métal was formed in 1983 by Claude Gendron and built their first fire truck the following year. In 2007, Claude Gendron died and his family puts the company for sale. Since 1996, the company has also developed CAFS systems for fire trucks. Service de Sécurité Incendie de Saint-Georges, which operates several Maxi Métal-built apparatus, was the first fire department in Québec to have foam system on all fire trucks.
Maxi Métal Inc.
Edit
In 2009, the family of the founder sold the company to three area businessmen, Danny Dufour, Martin Rancourt and Yvon Roy. In 2010, Maxi Métal won a 5-year 35 pumper contract with Service de Sécurité Incendie Montréal for over $16 million. This is the biggest contract in the history of the company.
Les Industries C.P. Morisette Inc.
Edit
Little is know about Les Industries C.P. Morissette Inc. The company was based in Otterburn Park, Québec and the owner, Charles Morissette, designed around two dozen trucks (pumpers, tankers and rescues). All trucks were built at the Maxi Métal plant. The company existed probably between 1986 and 1992. After the closure of C.P. Morisette in the early 1990s, Charles Morisette worked for NovaQuintech Corporation.
Production
Edit
Maxi Fire
Edit
Maxi Métal builds pumpers, tankers and rescues, on both custom and commercial chassis. Most of its sales to date have been to fire departments in Québec, with some deliveries in Atlantic provinces, Alberta and Morocco. Service de Sécurité Incendie Montréal and Service de protection contre les incendies de la Ville de Québec and Service de Sécurité Incendie de Lévis are customers. They've also rebuilt a number of older rigs.
Maxi Métal has only built a small number of ladders trucks in its history, all with old Thibault ladders reconditioned by CET.
VIO Fire truck
Edit
In 2010, Maxi Métal revealed its new concept, the VIO Fire truck. At the time, it was the narrowest pump panel in Canada with the lowest crosslays. Many VIO pumpers and pumper/tankers were sold to fire departments.
Pierce partnership
Edit
In 2015, Maxi Métal and Pierce Manufacturing announced a new partnership whereby Pierce will furnish the Pierce Saber chassis to Maxi Métal who will furnish bodies for Canadian departments. From 2016, all Canadian Pierce dealers will sell Pierce Saber / Maxi Métal pumpers, pumper/tankers and rescues.
Maxi Utility
Edit
Maxi Métal also builds utility trucks for telecommunication and electric companies, Hydro-Québec, Bell Canada and Telus are both customers of Maxi Utility.
Demo trucks
Edit
Used trucks currently own by Maxi Métal
Edit
Maxi Métal currently uses a number of loaner trucks :
Dubbert, Bob, Shane MacKichan and Joel L. Gebet. Encyclopedia of Canadian Fire Apparatus. Hudson, WI: Iconografix, 2004.
Departments operating Maxi Métal apparatus
External links
Edit
Ad blocker interference detected!
Wikia is a free-to-use site that makes money from advertising. We have a modified experience for viewers using ad blockers

Wikia is not accessible if you've made further modifications. Remove the custom ad blocker rule(s) and the page will load as expected.