Maxi Métal
Talk

0
8,509pages on
this wiki
Maxi Métal
Image

Overview

Founded
1983
Closed
Unknown
Headquarters
Saint-Georges, Qc
Factories
Saint-Georges, QC
Boucherville, QC
Key people
Products
Pumper
Tanker
Rescue
Aerial
Revenue
Employees
Parent
Website
http://www.maximetal.ca/en/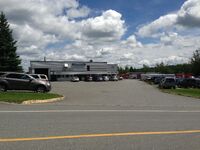 Maxi Métal Inc. is a Canadian fire apparatus manufacturer located in Saint-Georges, Québec, a small town located approximately an hour from Québec City.
Maxi-Métal was formed in 1983 and built their first fire truck the following year. From 1986 to 1991, they built approximately two dozen trucks for C.P. Morisette, a Montréal area company. They have built over 500 trucks.
Production
Edit
Maxi builds pumpers, tankers and rescues, on both custom and commercial chassis. Almost all of its sales to date have been to fire departments in Québec. Service de Sécurité Incendie Montréal and Service de protection contre les incendies de la Ville de Québec are both customers. They've also rebuilt a number of older rigs.
Maxi Métal has only built a small number of ladders trucks in its history, all with old Thibault ladders reconditioned by CET.
Dubbert, Bob, Shane MacKichan and Joel L. Gebet. Encyclopedia of Canadian Fire Apparatus. Hudson, WI: Iconografix, 2004.
Departments operating Maxi Métal apparatus
External links
Edit