The Aweres Volunteer Fire Department protects a municipally-unorganised area north of Sault Ste. Marie, Ontario. The facilities also includes a Regional Training Centre in the form of a two story burn building.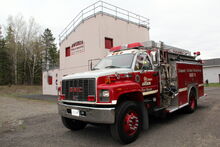 Apparatus roster
Edit
All pump/tank measurements are in Imperial gallons.
Fire Station - 30 Highway 556, HeydenEdit
Built 1985
Engine 40 - 2000 GMC Top Kick / Fort Garry (420/900/20F) (SN#M6466)
Tanker 41 - 2004 GMC T8500 / Holland (420/2500/30F) (SN#1756)
Unit 42 (Parade) - 1950 Bickle-Seagrave Type 66 pumper (840/600) (SN#F-3810) (ex-Trenton Fire Department (Ontario), ex-North Shore Township Fire Department (Ontario))

Rescue 43 - 201? International 4x4 walk-in rescue
Retired apparatus
Edit
1985 Ford F800 / King pumper (625/400/40F)
1979 International Transtar tanker (-/3000) (Sold to Jocelyn Township Fire Department)
1977 Chevrolet cube van rescue
Station map
Edit
Ad blocker interference detected!
Wikia is a free-to-use site that makes money from advertising. We have a modified experience for viewers using ad blockers

Wikia is not accessible if you've made further modifications. Remove the custom ad blocker rule(s) and the page will load as expected.